If you want naturally sweet, dairy-free, sugar-free (except for the maple syrup to feed fermentation), organic, super healthy yogurt, I've got an amazing recipe for you!  I've made this a few times now, choosing bits and pieces from other people's recipes and suggestions, and found that this is the perfect one for me and my family.  There are only 5 ingredients (RED) and you don't have to use the gelatin or the probiotics, if you don't want to.  I tried to highlight (BLUE) the most important details to make this less confusing.  I was a nervous wreck the first time I made this, so I'm hoping this will be easier for you to follow and feel less intimidated than I did.  It's very difficult to mess this up, so give it a shot!  It's so quick and easy to prepare.  The long part is waiting for your instant pot (IP) to finish the work for you!  You can do this with a crock pot/slow cooker, a heating pad, with the light in your oven, or any way that you can keep your yogurt at a pretty consistent 100-110 degrees for 8-36 hours so that it can ferment, after you cook it on the stove top to 185 degrees to begin with.  The IP just makes the whole process much simpler:  all of the mess in one pot and no checking the temp or doing much of anything but wait once you set the time and temperature.
You'll Need:
5 cans of Organic Coconut Milk (FULL FAT, NOT Low!) – I refrigerate (3-4 hours) or freeze (1 hour) 2 cans and drain the coconut water into a jar (to use later for anything I want, smoothies, etc.) and only use the cream from those 2 cans.   I shake the other 3 cans to combine the water and cream and use the entire contents of the 3 cans as they are.  This is important because it helps your yogurt be as smooth and creamy as possible.  
1/4 cup of Maple Syrup (pure, NO additives, and organic, if possible) – If I'm fermenting the yogurt for less than 12 hours, I don't use the maple syrup because coconut milk has plenty of natural sugar in it and I want as little sugar in my yogurt so that my family gets only good stuff from it.  Fermentation eats the sugars so that the end product has very little to NO sugar in it.  Also, DO NOT substitute honey.  It's bacteria will fight against the good bacteria in the yogurt and ruin your product.
*Last week I warmed/fermented our yogurt for 29 hours and it was TANGY!  With some berries and grain-free granola I can enjoy this without any sweetener, but I added 1/2 a teaspoon of stevia to my Honey's to take the edge off.  He doesn't love tangy like I do!
 Pour only the coconut milk and maple syrup into the IP and whisk until it is smooth.  Then hit "yogurt" until it goes to "boil," which will heat it to about 185 degrees.  This cycle takes about 15 minutes and you do not need to cover your IP.  Try to whisk once or twice during this cycle.  When you hear the BEEP indicating that the boil cycle is over, immediately whisk in
2-3 teaspoons of UNFLAVORED GRASSFED BEEF GELATIN or 1-2 teaspoons of AGAR AGAR (I've never used agar agar, but if you are vegetarian or vegan, this is a great option!)
Be sure to mix this in very well, or you will end up with lumps instead of thickened yogurt.  Also, most recipes I've found suggest adding the gelatin after the yogurt cools to 110 degrees (see below), but in my experience the gelatin works better if you add it when the mixture is at a higher temperature.
Let the mixture cool for about an hour with the cover on top, but not locked.  Your IP will slowly lower the temp to about 110 degrees.  (I use a candy thermometer)  When it reaches this temp, take out a scoop (about 1/4 cup or so) and put it in a small bowl.  Then slowly stir in 
3-4 oz. of plain yogurt (you can use coconut, dairy milk, almond, hemp, any kind works).  Once you make your first batch, always keep out 3-4 oz. before you add anything, and you'll always have a starter for each next batch.  I just put 4 oz. in one of these glass jars: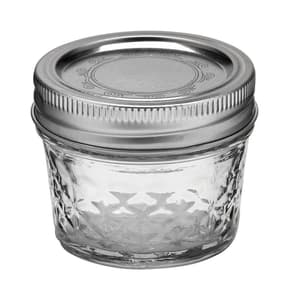 When the two are mixed well, pour the combination back into the IP mixture and whisk until completely blended.
The final ingredient I add is:
2-3 probiotic capsules (opened and poured out, DO NOT throw the capsule in there whole!)  It's important that you use probiotics that are not expired.
I whisk my concoction one last time and then set the timer to 24 hours or more, typically, but you can choose to set it for 8 hours (less will not ferment enough to be yogurt) or as high as 36 hours.  I may stir it once or twice during this time, but more often I just let it be.
When this cycle is finished, don't expect it to be much thicker than when you started.  The gelatin works by heating and then cooling as does the yogurt itself.  So, it will take time to thicken as it cools and sets.  I whisk it and immediately put it in a 64 oz. glass jar, like this:
Or 2-32 oz. jars work just as well!
**Don't forget to put 3-4 ounces in a small glass jar for your next batch!
Now, here's the trick…  Let it set up in the refrigerator for at least 8 hours if you want thick, rich, creamy yogurt.  If that's not so important to you, then enjoy your yogurt after 2 or more hours in the fridge. 
Once you get the hang of this, I guarantee you will not want to eat any other yogurt!  You know exactly what is in this!  There is SO much good fat in coconut milk.  You can make yogurt with cow's milk, as well, but we love that this recipe is completely dairy-free!  Making your own is MUCH cheaper than buying it made at the grocery store.  Last week I bought a 5 oz. container of coconut milk yogurt that is made with organic coconuts, but not completely organic.  The second ingredient was cane sugar, which I prefer not to consume and there were a few other things I wasn't wild about, although it was pretty yummy!  It cost me $1.59!  If I multiplied that by 12.5 – a little less than how many containers my recipe makes – that would cost just under $20.00 for store bought with ingredients I can't control.  My ingredients cost me about $12-13.00 per batch and I know exactly what I'm feeding my family!  When it's time to enjoy this creamy yumminess, we typically add fresh fruit and grain-free granola, but you can add a fruit compote, chocolate shavings, nuts or a few drops of pure vanilla.  When it's too tart, I just sprinkle a little stevia or monk fruit on it and stir, but any sweetener you enjoy will work.  Please leave questions or comments below.  I would love to hear about your experience with making yogurt!